Gluten-Free Culinary Events at Arenas Del Mar: A Celiac-Friendly Boutique Hotel in Costa Rica

Imagine spending seven nights at a 5-star hotel located in a tropical paradise where you'll wake to the sounds of exotic bird calls and catch a glimpse of monkeys frolicking in a nearby tree canopy … and later, after a day of exploring, find yourself relaxing on a veranda refreshed by a balmy breeze and perhaps a mojito! Sounds divine so far, right? Now, imagine your stay also consists of daily gluten-free breakfast, lunch and dinner options, prepared by a talented chef (quite possibly one with celiac disease who can personally relate to all things gluten-free)!
Is this your ideal travel destination? Well, now you can make it a reality … one week of dining without the fear and anxiety of being "glutened" while staying in a stylish, eco-friendly, celiac/gluten-sensitive-friendly hotel, located in the beautiful Republic of Costa Rica!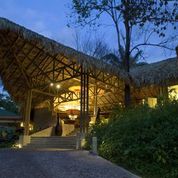 Arenas Del Mar is a 38-room boutique-style hotel situated in the town of Quepos in Manuel Antonio, which is on the southern Pacific coast of Costa Rica. This coming Fall, Arenas Del Mar will be hosting eight culinary events with a variety of guest chefs. Two weeks (1 wk. in September, 1 wk. in November) have been designated for the celiac and gluten-free community, in support of the National Foundation for Celiac Awareness (a portion of the events' proceeds will go directly to the NFCA).
One of the owners has a daughter with celiac and he is all too familiar with what a person with special dietary needs faces every time he/she leaves home. Both owners were on board with offering a safe, gluten-free haven for other travelers with celiac/gluten-sensitivity (or a wheat allergy), as part of their culinary events. During the designated weeks, all on-site restaurants will offer innovative dishes created with local, organic ingredients, and every morsel will be gluten-free!
[The kitchens will be entirely gluten-free, and kitchen staff will have received training by the National Foundation for Celiac Awareness' GREAT Kitchens Program!]

"The first week, beginning September 13th 2014, will feature guest chef Monica Glass, who herself has celiac disease, accompanied by Chef Nicole Petrongolo. Monica has worked as a pastry chef at the acclaimed seafood restaurant Le Bernardin in New York City, 10 Arts in Philadelphia and now Clio in Boston.
The second week, beginning November 8th 2014, will feature Michael Solomonov and Steven Cook, the owners and chefs of the highly rated Zahav in Philadelphia. This restaurant was named best restaurant in Philadelphia by Philly Magazine."
Check out the complete line up of culinary events at Arenas Del Mar beginning this Fall, click here.  See estimated cost below. 
More on the stunning Arenas Del Mar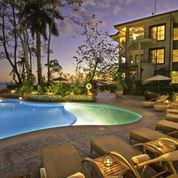 Perched on a 150 foot cliff, the hotel offers breathtaking views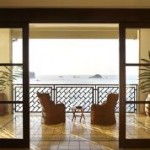 of the Pacific and also has access to two private sandy beaches. The Manuel Antonio National Park is within walking distance and the hotel is a great base for exploring all that Costa Rica has to offer from water sports (kayaking, rafting, surfing) to hiking, bird watching, ziplining and more. Arenas Del Mar offers the traveler the finest of luxury and amenities, while also being committed to sustainability (see awards below).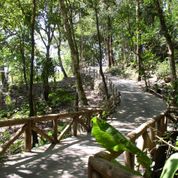 "Wildlife abounds on the property, birds (157 species have been counted so far!), sloths, monkeys, frogs, iguanas….the list goes on. Not to mention massages in the spa and margaritas under a palm tree on our own private beach"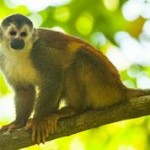 "Our hotel is set in eleven acres of nature; a property with private nature trails filled with wildlife and access to two beautiful beaches. Surrounded by so much natural beauty, we are committed to being sustainable. Arenas Del Mar seeks to demonstrate that a world class resort can successfully combine the highest levels of sustainability, rigorous standards in environmental stewardship and social responsibility." View more photos of Arenas Del Mar and their grounds here!
Hotel Recognition:
– Readers of Travel and Leisure magazine voted it Top Family Hotel in Central and South America (2013).
– Wedding planning site TheKnot.com listed it as one of 50 most exotic honeymoon resorts in the world (2013).
– Government of Costa Rica annually awarded it 5 Stars for luxury and 5 Leaves for sustainability
    (the only hotel to win both awards, luxury and sustainability).
–  Lonelyplanet.com voted hotel one of Costa Rica's best eco-lodges.
–  The hotel has just been certified as being Carbon Neutral.
–  The views are listed in the famous book 1,000 Places to See Before You Die
Even if you are unable to book either of the 100% gluten-free culinary events this Fall, you can still enjoy a great gluten-free experience at Arenas Del Mar anytime of the year! The hotel restaurants offer many gluten-free options. Laura of G-Free Laura blog recently visited the hotel, and wrote about her stay, you can read it here …. Erin of Gluten Free Globetrotter will be visiting the hotel sometime in June, so be sure to check in with her when she returns.  Lucky Gluten-Free Girls!
Contact info:
Direct Dial: 011.506.2777.2777
US & Canada: 1.888.240.0280
Email: info@arenasdelmar.com
Website: http://www.arenasdelmar.com
For questions regarding the Gluten-Free Culinary Events
    Contact Jeremy Allen, Program Director Tel: 610.407.9371
View video to hear how the Arenas Del Mar Culinary Events came to be!
Estimated Cost of a 7 night stay (provided by owner):
Pricing will depend on your particular choices. Here is an example.
Airfare:           From Philly, for example, to San Jose is approximately $700 pp.
Transfer:         $195 each way for up to 4 people.
Rooms:           Range from approximately $300 to $700 per room per night. (If you check website, under the Promotions section, you will see a stay for 3 nights, but pay for just 2 during this period, which brings the cost range down to $200 to $500 per night plus 13% taxes)
Food:               Breakfast is included. Lunch and dinner (including tax and service) are approximately $100pp per day excluding alcohol
Total cost:       Between $5K and $7K (approx.) per couple for 7 nights, depending on which room you select.
(off-site tours and spa treatments are extra)