California Pizza Kitchen Reintroduces Gluten-Free Pizza Now Considered Safe for Celiacs
---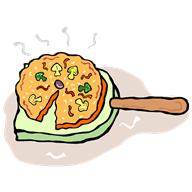 A few years ago the California Pizza Kitchen (CPK) chain began offering gluten-free pizza in their restaurants. Unfortunately many customers with celiac disease and severe gluten sensitivity found out the hard way that the pizza really wasn't safe for them, as many of the toppings contained gluten. As a result, CPK pulled the gluten-free pizzas from their menu.
We have good news for California Pizza Kitchen fans! The company has since taken steps to educate their staff on how to keep the kitchen, and gluten-free ingredients, safe from cross-contamination, and recently released a line of gluten-free pizzas that are presumed safe for celiacs, the gluten-sensitive and wheat allergy sufferers.
In a Nation's Restaurant News' article by Lisa Jennings dated 11 October, Brian Sullivan, Senior Vice President for Culinary Innovation for CPK, said "the move is an effort to meet the growing demand for a gluten-free product that even those most sensitive to wheat can enjoy."
CPK has developed procedures to avoid cross-contamination in the kitchen. "The first step was removing all wheat flour from the pizza prep station, where chefs prepare and hand-toss the dough and build the pizzas. "We've converted that to rice flour, so we no longer have any wheat flour in the station or in the air," he said. Gluten-free ingredients are kept in a designated, safe, area and are color coded, as well as anything that touches the gluten-free pizza (cutting boards, cutting wheel, etc.)
I checked CPK website's gluten-free menu page and found this:
"These gluten-free pizzas are prepared using the strict procedures approved by The Gluten Intolerance Group (GIG), using a certified gluten-free crust and other ingredients verified by our suppliers as gluten-free. Please inform a manager of any allergies or special dietary needs (e.g. gluten intolerance) before ordering"
You will now find four gluten-free pizza options on the CPK menu:
– Original Barbecue Chicken
– Pepperoni
– Mushroom Pepperoni and Sausage
– Margherita
(in addition to a plain cheese GF pizza)
The new gluten-free pizzas started being served in restaurants the week of October 7th, and the response from customers has been favorable.
You can view the entire Restaurant News article HERE, to read all the steps CPK will perform to keep its celiac and gluten-sensitive patrons safe.
Are you a fan of California Pizza Kitchen? After reading their new safeguards against cross-contamination will you feel comfortable dining there? Share your thoughts below.
To see all CeliacCorner blogs click HERE